HJS is a world-renowned manufacturer of catalytic converters ('catalysts') and exhaust systems for motorsport and road vehicles.
The German brand's high-performance catalytic converters are used by vehicle manufacturers and afterrmarket tuners alike.
Corse is the sole Australian importer for HJS products.
1. FOR MOTORSPORT

HJS has developed and produced catalytic converters and exhaust systems for motorsport since 1990.
The company's Motorsport department cooperates closely with the German Motorsport Federation (DMSB), the FIA (Federation Internationale de l'Automobile) and vehicle manufacturers.
 HJS ADVANTAGES
Made in Germany
30+ years' know-how
DMSB / FIA homologation
Motorsport series supplier
Stainless steel construction for maximum durability
Universal non-controlled 100 cpsi* for optimum gas flow
.OEM quality
'HJS Motorsport' and serial number identification
CUP-Design / PE-Design / UL-Design
* cells per square inch
CATALOGUE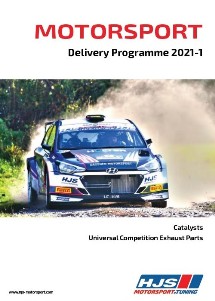 Click here to download (1.18mb)
2. FOR ROAD VEHICLES ('TUNING')

HJS road vehicle ('Tuning')  catalytic converters have been developed from our motorsport products. The range extends from downpipes with ECE R103 approval to universal catalytic converters.
HJS ADVANTAGES
Euro 4/5/6 approved
200/300cpsi*
up to 12 kW more power
up to 1db more sound
EOBD tested
stainless steel catalyst
optimised gas flow
HD-Design / HF-Design / TS-Design
* cells per square inch
ECE DOWNPIPES
HJS ECE-approved downpipes can be combined with standard-production and tuning exhaust systems from many different manufacturers.
UNIVERSAL CATALYTIC CONVERTERS
HJS's universal catalytic converters have been tested for Euro 1 to Euro 6 vehicles, so they have no problems with EOBD or MOT inspections.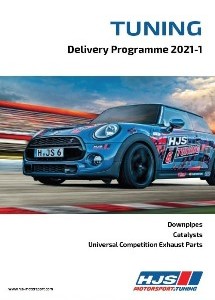 Click here to download (2.66mb)
3. UNIVERSAL COMPETITION EXHAUST PARTS

Motorsport enthusiasts can now design and construct their own exhaust systems with HJS Universal Competition Exhaust parts.
These generic 1.4301 stainless steel parts are also suitable for rebuilding or replacing original parts that are no longer available, or for prototypes.
PIPES, BENDS & Y-PIPES
Made from high-grade 1.4301 stainless steel, these pipe ends are flared over a length of 30mm.
CONNECTORS
Stepped pipe connectors, flexible pipe couplings of high-grade stainless steel, connection adapters, flanges, sensor connectors and pipe connectors.
UNIVERSAL SILENCER
HJS universal silencers reduce noise by absorption, providing low backpressure and maximum power.
INSTALLATION
Everything you need for trouble-free installation: heat shields, general-purpose brackets, springs, pipe clamps, rubber parts and mounting components.